Our Research and Development conducts multiple studies and makes them available to our customers.
To start, the company evaluated three different groups of individuals.
Fair to medium skinned females, age 35-65 years old, which is typical for these types of studies. They were assigned to each group based on their skin type so that we could better understand how different skin types responded to the different product combinations deemed most appropriate.
Each of the participants then used the LumiSpa system for 12 weeks. They assessed their skin responding to a questionnaire at baseline weeks one, two, four, eight and twelve to provide self-perception results. Their skin was also assessed by a trained clinical grader at these time points. The clinical evaluation is more objective, while the self-perception assessment provides more insight into how a consumer will view their own skin changes or improvements.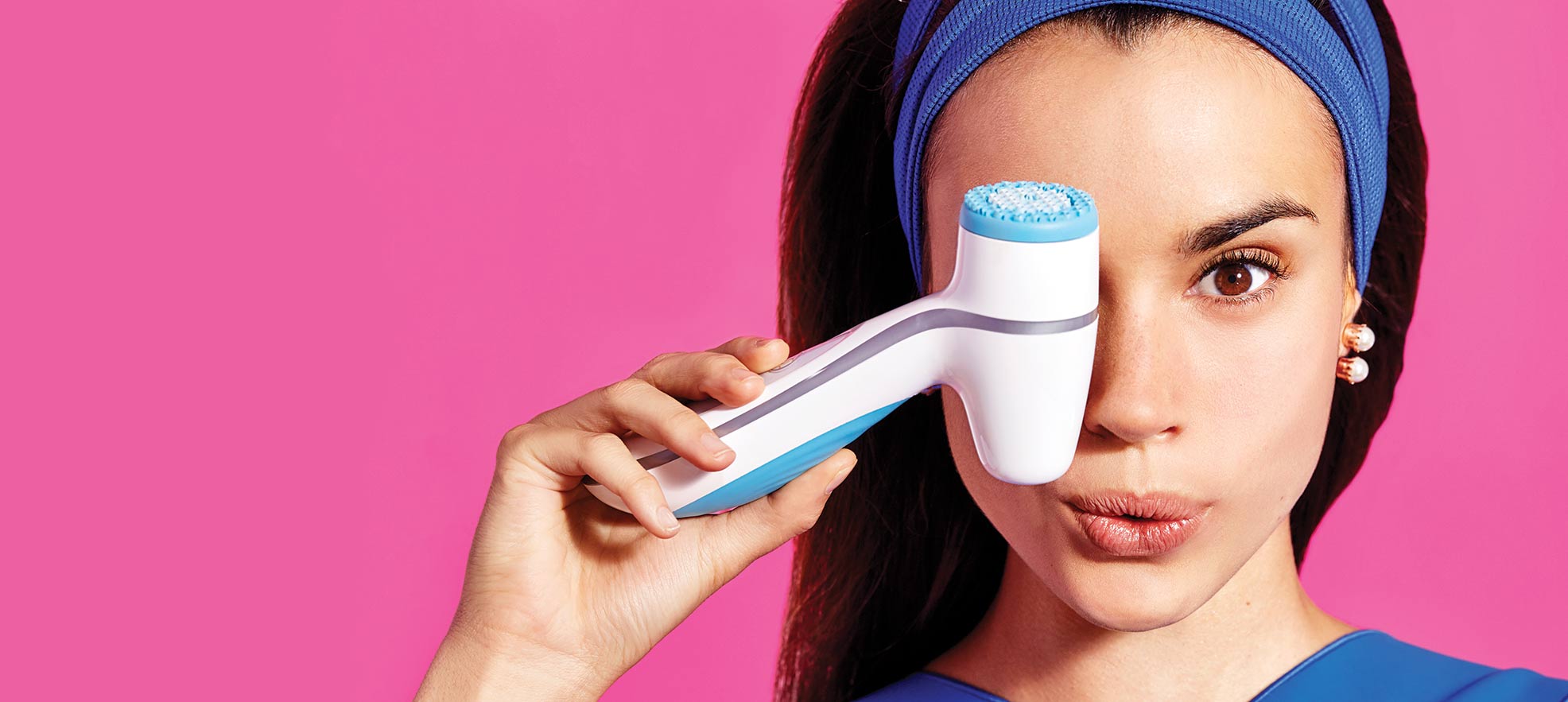 Statistically significant improvements were noted by the participants in the visible skin beauty characteristics listed below. Statistically significant means that enough individuals saw improvements that the improvement was deemed the benefit of the product over chance. The improvements seen by the participants in their skin's attributes listed below wouldn't have happened on their own, but was instead due to their use of the LumiSpa System.
• Softness       • Smoothness     • Cleansing      • Brightness         • Radiance        • Clarity        • Luminosity      • Pore Appearance    • Firmness
Additionally, the improvements in the number of characteristics and the intensity of these improvements increased throughout the study. At week one, subjects were first able to see improvements in skin softness and smoothness. During week two, smoothness and softness scores improved, but cleansing, brightness, radiance and clarity were also noted. All of these characteristics improved at week four, as well as improved luminosity and a reduced appearance of pores. By week eight, visible improvements in skin firmness was noted.
Another interesting point is that the improvements varied by each group. This was to be expected as different skin types have unique needs. Those with oily skin didn't see the one-week benefits of skin softness (18%) that those with dry (30%) or even normal to combination (40%) skin experienced. This is likely that those with oily skin don't have as much room for improvement compared to their other skin types.
The clinical grader data provides similar insights. The clinical grader saw improvements in each group for skin attributes similar to the subjects themselves:
• Cleansing    • Firmness     • Radiance      • Clarity      • Appearance of pores     • Softness      • Smoothness
Here again we can see those between group differences. While 100% of subjects were graded to have improvements in skin cleansing, this was seen as early as week one for both the dry and normal to combination skin groups. Yet, it took the oily group longer to get there. Yet, visible improvements in skin firmness was less pervasive in the dry group compared to the oily and normal to combination groups.
This study illustrates that the rate of skin benefits will differ for individuals based on their skin types. It also shows that each skin type will benefit from using the ageLOC LumiSpa system.
What is ageLOC LumiSpa?
ageLOC LumiSpa is the first-of-its-kind, dual-action skin care system that gently–yet deeply–cleanses and revives skin appearance in just one treatment, making it feel softer and smoother. Invented by Nu Skin and dermatologist-tested, LumiSpa is inspired by studies on skin protein production. The ageLOC LumiSpa system has three key features:
1. The device — a rechargeable handheld device that simultaneously treats and cleanses the face, when used with the specially formulated cleansers.
2. Treatment heads — choose between Normal and Firm treatment heads, which have non-abrasive silicone surfaces containing antimicrobial silver, making them more hygienic than most competitor products.
3. Treatment cleansers — there are four treatment cleanser options for ageLOC LumiSpa, each designed for different skin types: dry, normal/combination, oily, and sensitive skin. This means that you can use the LumiSpa in whichever way works best for you and your skin.
LumiSpa devliers seven skin benefits, including softness, smoothness, radiance, clarity, purified skin, reduced pore appearance, and improved appearance of volume annd density. All were proven in a preliminary 12-week study, in which participants noticed some improvements after a single use, and further improvements over the course of 12 weeks.
LumiSpa is gentle enough for twice-daily use. For optimal results, use it for two minutes, as your cleansing step, both morning and night.
How to Use LumiSpa
One of the great things about the ageLOC LumiSpa is how easy it is to use. First, you must pick your treatment head and treatment cleanser. If you have sensitive or dry skin, you may want to use the associated treatment cleansers with the Normal treatment head. For normal/combination or oily skin, you may want to use the associated treatment cleansers with Firm treatment head for extra exfoliation.
Once you decide which treatment head and cleanser are right for you, you're ready to use LumiSpa as part of your daily regimen as follows:
1. Moisten your face with water.
2. Apply your chosen ageLOC LumiSpa treatment cleanser to your entire face. No need to lather the product.
3. After affixing the treatment head, wet it under running water.
4. Turn the device on.
5. Wait for the treatment head to spin — it will start slow, before reaching normal speed.
6. Slowly move the treatment head back and forth over part of your face, using broad strokes — do not scrub or move too quickly.
7. Move to a new area of the face after about 30 seconds — the device will stop briefly every 30 seconds to encourage you to mover areas.
You can pause the device by pressing the On/Off button once, and turn it off by pressing and holding the button for two seconds. For more detailed instructions please see, the user's manual.
ageLOC LumiSpa Complementary Products
There are a lot of Nu Skin products that complement an ageLOC LumiSpa skin care regimen. They include:
○ ageLOC Galvanic Spa/Nu Skin Facial Spa — The ageLOC Galvanic Spa uses direct/galvanic currents to rejuvenate your complexion and increase skin vibrancy. The Nu Skin Facial Spa uses micro-currents to stimulate and tone the skin.
○ ageLOC Me® — ageLOC Me creates an entirely new approach to customised anti-aging skin care. Brilliant, yet simple to use, ageLOC Me delivers five powerful anti-aging products, custom selected from almost 2,000 possible regimen combinations. What results is one streamlined, simplified regimen delivered to you.
○ Tru Face® Line Corrector — Tru Face Line Corrector targets signs of ageing with peptides that help soften the appearance of lines around your mouth, eyes, and forehead.
○ ageLOC® Tru Face® Essence Ultra — Formulated with the power of Ethocyn®* and Nu Skin's revolutionary anti-aging science, ageLOC Tru Face Essence Ultra targets the sources of ageing that lead to the loss of firmness.
 PURCHASE OR SHOP HERE:
Click